What's New at Scrapbooks Forever!
We have the largest scrapbooking selection in the area. We always keep up with the latest trends in scrapbooking and are always ready to demo any new tools or techniques. Come check us out! Even though we don't have online ordering, you can order any of our products by sending us an email or calling 417.335.7904.
NEW PRODUCTS
New Products in the store now:
1) Graphic 45 Kaleidoscope and Bloom
2) Heartfelt Cherry Blossoms
3) Celtic knot dies – several patterns
4) Mini Bloom Storage – opens like a blooming flower to store tiny embellishments
5) Simple Stories Vintage Traveler
6) Cartography collection – beautiful maps
7) New Camping papers
8) Say Cheese 4 Disney collection
9) Authentique Ingredients Kitchen Collection
10) Big Top Circus
11) Lots of Easter of course!
12) Hello Baby in Boy and Girl collections by Echo Park
13) New Farm, Zoo and Pets
14) New Wedding vintage lace collection
15) New EK Success Punches- cute cupcakes, unicorn, tags
16) New Spring 3D punchouts – we never tire of these fun embellishments
17) Lots of new Cottage Cutz Easter Dies- some bunnies and some religious
18) New Tim Holtz and a second wave of new items coming this week
New products from March
1) Ciao Bella paper collections are back in stock! PLUS BRAND NEW ONES!
2) Lots of St. Patrick's papers and cutaparts for cards
3) Bo Bunny Double Dot Vintage LACE  papers! These are fabulous!
4) Heartfelt Creations Tulip Collection
5) Heartfelt Creations Diamond dies
6) Lawn Fawn spring release; Easter, fun boxes, Mushroom house, and more! It's all here!
7) Bo Bunny Bee-utiful collection : Blues and bees and it is Bee-utiful!
8) Graphic 45 Love Notes is here
9) Echo Park Easter Wishes Collection
10) Photoplay Easter Joy religious collection is here
11) Photoplay Bunny Trail Collection: silly rabbits and eggs
12) Photoplay Snuggle up baby boy and girl collections
13) Echo Park Hello Baby boy and girl collections
14) Authentique Swaddle boy and girl collections
15) Nuvo Dream Drops are here, fabulous iridescent colors with a prism effect
16) Spectrum Noir TRI-BLEND markers: Three perfect blending shades in each marker, saves space and time searching for the right markers to blend together
17) Art Impressions new release: includes new watercolor series stamps, cute new aging birthday stamps, Easter set, new flip card dies and stamps
New from previous months:
Tim Holtz Newest release – Geo Spring dies, Big Bunny, new side-orders for Easter and Noted which is new tags, cute little robots, dinosaurs, florals and more
New Sizzix releases with a great emboss and cut window with stone wall, ice cream cone and strawberry fold-it, fairy moon, everyday envelope liners, and more
Number set for the word punch board – I love this – add dates to your photo mats instantly
Creative Expressions Edger dies for spring – I had their Christmas designs and they were so awesome I ordered the new designs with florals, dragonfly and more for spring.
Pink Ink stamps – new company for us. Rabbit, Unicorn, Dragon and Seahorse. Nice artwork!
New Hero Arts Spring release – Lots of butterflies and more
Don't forget Valentine's stuff to scrapbook your celebration of this Love-ly holiday!
We have stamps, dies, paper and stickers. Lots can be used for more than Valentine's!
Lawn Fawn new release : little critter boxes – Fox, Raccoon, Heart box, Heart backdrops & more
New Company: Ciao Bella from Italy! We love this vintage artistry. You know if you have been following us on facebook.
New St. Patrick's Day papers – great for cut-a-parts for cards
The repeat word 2019 paper is finally here – great for Graduation
New Spring 3-D punch outs featuring birds
Stitch Happy Pen – fun to make stitched picture designs with included templates, but I really just like to stitch ephemera to my page or card or make random stitches for backgrounds
I have new colors in stock of the Vintage Double Dot cardstock we all love!
New Zoo and Farm paper collections
Don't delay getting what you need from Halloween, Fall and Christmas collections as I have ordered the last of what I can get of the 2018 releases. When it's gone, it's gone!
New Products in the store from previous months:
1) Tim Holtz new metallic cardstock pads – we have all four varieties in stock
2) Merry Moose die from Tim Holtz
3) Kaleidoscope Embossing folder Tim Holtz
4) House Mouse 2019 calendars – limited supply
5) New shaker card sets from Jillibean- see the project of the month
6) Lots of Go Press and Glimmer Foil plates and machines
7) Large selection of new little storage bottles from We R
8) New Journaling and book binding tools from We R
9) Graphic 45 Princess Collection
10) 2019 kits for welcoming in the new year
11) Pebbles Valentine Loves Me Collection
12) Photoplay Valentine Wild Love
13) Echo Park Down on the Farm Collection
14) New winter punchouts
NEW FROM 2018:
1) New Farm and County Fair papers
2) New Rites of Passage papers, Baptism, Confirmation
3) New dance papers
4) New travel papers, Countries, National Parks
5) New dragonfly collection papers
6) Neon Nights papers
7) New Tim Holtz Christmas Dies
8) New Distress Oxide colors – the last 12 colors
9) New Bo Bunny Calendar papers
10) New Valentines Papers
11) New Tim Holtz Christmas Dies
12) New Hot Foiling plates and Foil to use in Go Press or Glimmer machines
13) New Heartfelt Creations Collections featuring cute pockets and tags
14) New Pocket Creator Punch Board
Here is a small sample of our "staple" products.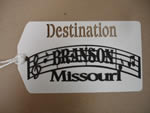 Branson Items
We have all you need to scrapbook your Branson trip with a huge selection on Branson custom items.  Custom papers and die cuts of all the Branson attractions, & stickers.  We are proud of our Branson wall!