What's New at Scrapbooks Forever!
We have the largest scrapbooking selection in the area. We always keep up with the latest trends in scrapbooking and are always ready to demo any new tools or techniques. Come check us out! Even though we don't have online ordering, you can order any of our products by sending us an email or calling 417.335.7904.
NEW PRODUCTS
New items in the shop Now:
1) Picket Fence Paper Glaze – so creamy and shiny, use through stencils or alone
2) Sizzix Chapter 2 releases, including Tim Holtz
3) Graphic 45 Dies and stamps, Tag/pocket butterfly, Policy, and Folder Sentiments
4) Graphic 45 Farmhouse collection
5) Graphic 45 Safari Adventure Collector's edition
6) Entire new Lawn Fawn release, including magic Iris
7) Tim Holtz Distress Embossing Glaze powders – see though like colored glass
8) WOW embossing powders in cool variegated mixes
9) Memory Box Fairy Sugar Glitter Glues – very intense, lot more glitter than Stickles
10) Dress My Craft Shaker elements – fruit shapes, teddy bears, clouds
11) Sizzix Shaker mixes in tower tubes – Shakers are hot right now
12) Spellbinders Build a Doily – so fun and easy, makes a 3D doily
13) Memory Box String Art Frame and corner Dies- Love these!
14) New Paper Cuts dies to make cool edge designs, Seahorse, new Florals, cake
15) Farmhouse Market and Summer Market from Carta Bella
16) Hey hello from Jen Hadfield, so fun, papers make great cards, cut apart greetings
17) New Reminisce release:Train papers, Sea Life, King of the Jungle, Graduate & more
18) New Harry Potter papers
19) Simple Vintage Garden District by Simple Stories – so pretty
20) Farm Meadow by Craft Consortium – papers, stamps, embellishments – we have it all
21) Bo Bunny Family Heirloom – great for mini albums and heritage
22) 49 Market Vintage artistry collections in various colors, papers and cool embellishments
23) New 3D Punchouts for Spring
24) New grown-up His and Hers Birthday papers and kits
25) Lots of Easter- if you feel like you missed out this year, you can always prepare for next year!
More NEW PRODUCTS IN STOCK NOW:
1) ALL the new LAWN FAWN release. Fun samples showing off these great designs.
2) Hero Arts new Heroscapes. Takes color layering to another level. Love these!
3) Spellbinders new Doily Dies – Easy to create fancy 3D doilies in 2 different designs
4) Memory Box New Spring & Easter dies
5) New String Art Dies – looks like the real thing!
6) Graduation papers, kits, stamps and dies
7) St. Patrick's Day papers and dies, even Leprechauns!
8) Carta Bella Farmhouse Market Collection
9) All the new Reminisce releases including Train, Golf, Cheerleader, Zoo, Travel, Garden
10) New Harry Potter- each Howarts house robe paper
11) PhotoPlay Camp Happy Bear collection
12) Graphic 45 Ocean Blue
13) Graphic 45 Fruit and Flora
14) Studio Light English garden papers, stamps and dies- so pretty!
15) Bo Bunny Family Heirloom Collection
16) Bo Bunny Garden Grove Collection for Easter and Spring
17) Jen Hadfield Hey Hello collection – so fun for cardmakers as well as scrapbookers
18) Authentique Purebred for cat and dog lovers
19) Pebbles lovely Moments for modern wedding
20) Stamperia Chipboard Die cuts to match Forest and Alice
SPOILER: MUCH MORE ARRIVING WEDNESDAY MARCH 4th
Including new Stampers Anonymous stamps and stencils
Art Impressions including new watercolor stamps and fun interactive stamp/die combos
Spellbinders new popular cabinet dies that can now also make mini books!
Spellbinders Cut and emboss folders in tributes to India, Mexico, and Japan
Spellbinders Candlewick dies, love the unique border of these nested shapes
Creative Expressions card panel dies and circular message dies
Gnomes are SO POPULAR and we have lots of stamps and papers
New company for us to carry LDRS! New samples on display in the shop!
Heartfelt Creations Tea time collection, plus Calla Lily and Decorative Royale Dies
Stamperia Forest, House of Roses, Sea World, Imagine collections
Stamperia in new 8 x 8 and 6 x 6 sizes
Authentique Cottontail for Easter and Purebred pet collections
Polar Playtime paper and stamps – Cute Penguins, great artwork!
Ciao Bella Sound of Summer, Sicilia, Start your Engines, The Seventies, and Tango
New Hero Arts springtime themes stamps and dies
SPOILER ALERT: New Lawn Fawn will arrive mid February! It's ALL coming!
New Verses message stamps, some heartfelt and some very funny!
New Stampendous frame series stamps
 NEW FROM LAST MONTH
1) Chapter One Tim Holtz and Sizzix release. These are the newest dies for 2020. I got on the list to have them first, so they will all be on my shelves and ready to sell or ship January 1.
2) Heartfelt Creations new window dies and matching card blanks. These are fun and can be used for A2 cards as well as the big 6 x 6. Even has a set of hinge dies that make the windows open. And I love the Create a 'scape stamp and die sets. Make endless combinations of your own outdoor scenes!
3) Pinkfresh Studio is one of my favorites right now with a new release of dies in their tag series. A new small interchangeable tag set like the big one I used in 2019 make and takes. An egg shaped tag set for spring and Easter. Striped card panel dies that make a full panel or a frame. Just put colored papers to show though the cuts for endless striped backgrounds. See this month's project of the month for samples.
4) New Valentine papers. Great cut-a-part sheets for card making.
5) New St. Patrick's paper also perfect for card making.
6)  New Year's 2020 paper and stickers.
7) All the new Lawn Fawn release is here. Fun new Valentine's. My favorite is the reveal wheel typewriter and lots of messages for the little typewriter to say for all occasions. And the little heart shaker tags are so much fun to make!
8) Graphic 45 Fashion Forward – fun for making calendars. Plus we have lots of other calendar making stuff, including blank single sheets of calendar grids and spiral bound blanks. Authentique and Bo Bunny calendar papers , too.
9) We R Memory Keepers "The Works" tool. 15 different tools in one convenient tool about the size of a 12 inch paper slicer. Great space saver at retreats!
10) Lots of new Frozen and Star Wars papers and stickers just in time for the movie releases.
11) Echo Park Love my Cat and Love my Dog Collections
12) Carta Bella Fish are Friends collection. This should be great for our brand new Aquarium we are getting here in Branson in 2020.
13) In case you missed them, The Nuvo Glitter Markers and the Picket Fence brushes are two of our favorite things that came out in 2019. Still in stock and still a fabulous "must have".
14) New Spellbinders cabinet dies and inserts. We fell in love with these in the Christmas 3D foldable cards and now there are new shapes and inserts for Valentine's. Plus you can turn them into mini books instead of cards.
15) Another favorite is the Make Art Stay-tion. A metal work surface with magnets and a magnetic ruler. A must for anyone who likes to use stencils. Together with the Picket Fence brushes has made a stencil junkie out of me!
16) New Warrior collection. Medieval theme looking perfect for Game of Thrones style.
17) New Military kits.
18) Doodlebug Winter Wonderland. I love it and I ordered it all.
19) New 3D punchouts. Winter theme in light blues with little animals and snowmen. And "real" cats and dogs.
20) Corner punches that make the double slit to slip your pictures in to a mat, and now also in a decorative edge instead of just straight.
21) If you are like me, and not done with your Halloween, Fall, and Christmas pages, remember we keep a good stock of all those themes year round. I ordered extra of all the most popular ones to keep you going.
New Products from last month:
1) Heartfelt Creations Happy Camper Stamps, dies and paper pad
2) Authentique Liberty 4th of July paper collection
3) Graphic 45 Tropical Paradise collection
4) Waffle Flower Water Media Mat- waterproof surface and color wells built into the mat
5) New summer 3D punchouts – beautiful florals
6) Blooming Summer dies and stamps to match the 3D punchouts
7) Color layering glass jar with flowers
8) New Desktop organizers – only 12.00 each/ 4 styles – fun project- comes with decorations
9) Photoplay All Hallows Eve collection
10) Photoplay Christmas Memories collection
11) Prima Apricot Honey collection
12) Prima Christmas Country collection
13) Prima Autumn Sunset collection
14) Nuvo Stone Drops
15) Kaisercraft Magenta collection
16) Kaisercraft Enchanted collection
17) New Ocean View papers and dies
18) Gina K Wreath Builder sets, templates and masking sheets
19) We R Memory Keepers Marker Airbrush
20) Tim Holtz Halloween and Christmas releases
21) Sizzix new release for 3rd Quarter
22) New Sue Wilson Christmas dies – NEW 2019 ANGEL – really pretty!
New from past months:
1) New Company: Dress my Craft beautiful new paper pads
2) Dress my Craft corner slot punches for easy card layer or photo mats – love this!
3) New Paper Cut Edger dies, sunflower, clematis, roses – so elegant
4) Clickable alphabet and numbers stamp sets are back in stock! Spell whatever you want!
5) Lawn Fawn summer release is here – we have it all!
6) New Flocked paper – die cut it, transfer it, create 3D fuzzy stickers with foam adhesive sheets
7) Picket Fence blending brushes- takes blending to a whole new level
8) Memory Box Summer release – new florals and birds
9) Poppy woodland dies – real cute!
10) Layered Combo dies – 3 layers for spectacular backgrounds – lattice, honeycomb and droplets
11) Heartfelt Purr-fect Posies and coordinating kitty cat stamps and dies
12) Alexandria Renke kitchen papers – very nice BBQ, mushrooms, tomatoes, utensils
13) More 4th of July arriving every day
14) Jungle theme dies and 3D punchouts
Here is a small sample of our "staple" products.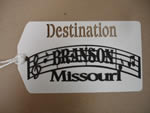 Branson Items
We have all you need to scrapbook your Branson trip with a huge selection on Branson custom items.  Custom papers and die cuts of all the Branson attractions, & stickers.  We are proud of our Branson wall!