What's New at Scrapbooks Forever!
We have the largest scrapbooking selection in the area. We always keep up with the latest trends in scrapbooking and are always ready to demo any new tools or techniques. Come check us out! Even though we don't have online ordering, you can order any of our products by sending us an email or calling 417.335.7904.
NEW PRODUCTS
New Products in the store now:
1) Tim Holtz new metallic cardstock pads – we have all four varieties in stock
2) Merry Moose die from Tim Holtz
3) Kaleidoscope Embossing folder Tim Holtz
4) House Mouse 2019 calendars – limited supply
5) New shaker card sets from Jillibean- see the project of the month
6) Lots of Go Press and Glimmer Foil plates and machines
7) Large selection of new little storage bottles from We R
8) New Journaling and book binding tools from We R
9) Graphic 45 Princess Collection
10) 2019 kits for welcoming in the new year
11) Pebbles Valentine Loves Me Collection
12) Photoplay Valentine Wild Love
13) Echo Park Down on the Farm Collection
14) New winter punchouts
NEW PRODUCTS LAST MONTH
1) New Farm and County Fair papers
2) New Rites of Passage papers, Baptism, Confirmation
3) New dance papers
4) New travel papers, Countries, National Parks
5) New dragonfly collection papers
6) Neon Nights papers
7) New Tim Holtz Christmas Dies
8) New Distress Oxide colors – the last 12 colors
9) New Bo Bunny Calendar papers
10) New Valentines Papers
11) New Tim Holtz Christmas Dies
12) New Hot Foiling plates and Foil to use in Go Press or Glimmer machines
13) New Heartfelt Creations Collections featuring cute pockets and tags
14) New Pocket Creator Punch Board arrives Tuesday Nov 6th
Graphic 45 Flutter
Graphic 45 Garden Goddess
Graphic 45 Christmas Magic
All the Christmas and Fall Lawn Fawn
Doodlebug Halloween
Doodlebug Christmas – so many fun DoodlePops
Reminisce Christmas and Winter – lots of snowflakes
Reminisce Halloween – Cute or Scary, we have both kinds
New Simple Stories Vintage Halloween and Christmas – personal favorites
Echo Park and Carta Bella Autumn and Christmas collections – so cute!
Photoplay Fall and Christmas
Really cute new Dog and Cat collections –
National Parks papers
Tim Holtz Halloween and Christmas new and popular re- released from last year
Great new Penny Black Christmas and Winter stamps and dies, samples on display
New Circle Spin and Trim – so easy to cut circles and frames 1 inch up to 8 inches
Word Punch Board – punch words in your photo mats- so fun
Gilding Polish in lots of colors and NO SMELL like gilding wax
Lots of new Christmas dies form several companies
Both of the New Heartfelt Creations Christmas and Oakberry Lane – SQUIRRELS!
New products from PREVIOUS MONTHS!
1) Tim Holtz Glass Media Mats are finally here!
2) Heartfelt Creations Leafy accents stamps, dies and molds – leaves on a whole new level!
3) New Hero Arts Christmas release- ornament dies, owl color layer, fawn color layer and more
4) Heartfelt Sweet as Honey Collection stamps, dies and paper pad– love the bees!
5) Bo Bunny Jungle Life collection papers and stickers for your next zoo adventure
6) Bo Bunny Escape to Paradise papers and stickers- fun retro images and colors
7) New Crafter's Companion 3D embossing folders- even more designs to love!
8) Gilding Wax to add rich pearl effects to the 3D embossing
9) Memory box new summer dies, florals, bees, butterflies and such
10) New embossing folders, bicycle, cupcakes, birthday and thank banners, ladybugs and more
11) Tim Holtz Impresslits medallions and borders, but they are going fast!
12) New Sizzix dies for the cutest little gift bags ever – several styles
13) Sizzix Shutter card die – but it reminds me more of steps! Really neat!
14) Lots of farm theme dies and 3D punch outs
NEW PRODUCTS from summer IN THE SHOP NOW:
1) Spellbinders Color layering dies – So fun! See our project of the month using these
2) Spellbinders and Crafter Companion 3D embossing folders – deep detailed designs
3) Gilding Wax – awesome metallic effects with the 3D embossing folders
4) Glitter Kiss – also awesome to embellish the 3D folders
4) Sizzix Framelits with matching stamps – so many cute designs – toucans, unicorns, etc
5) Sizzix Tropical papers and dies – so pretty
6) Happy Jig – make fun wire shapes and words to embellish you pages and cards
7) NEW LAWN FAWN  – the entire new release has arrived
8) Heros Arts fiesta stamps and dies – cute little Chihuahua, piñata die, and more
9) Heartfelt Creations Coneflower release
10) Art Foam for making fun curly flowers
11) Card Layering dies for perfect mats, backgrounds and corners
12) New birthday dies- a full layer cake – so cute!
13) Gone Camping paper collection by Carta Bella
14) Lots of Fourth of July papers and stickers
15) MUSIC PAPERS – individual instrument papers so you can focus on what your star plays
16) More Inky Antics turn a wheel and flip flap designs
17) NEW SANOTORO GORGEOUS GIRLS med. stamps and dies and EMBOSSING FOLDER
18) NEW layered word dies – Debbie has made lots of samples – stack them for a cool effect
19) Marbling Kits – create gorgeous patterns on paper, chipboard, and more
New products in last month:
1) 3D embossing folders are all the rage and we have some great ones!
2) Tim Holtz 3D embossing folders – gears, sheet metal, floral
3) Crafter's Companion- gorgeous lace, floral, frame, flourishes
4) Glitter Kiss – we have been embellishing the embossing with this no mess glitter!
5) New Xcut embossing folders that also cut –fairies, gears, elegant lady
6) Happy Jig wire art tool- make words and shapes in wire to add to your pages and cards
7) Precision Press Stamp aligner – love this! Multiple plates make layer stamping a breeze!
8) Hero Arts new Liquid Watercolors and Beautiful floral Stamps and dies to use them with
9) Doodlebug Hello Collection – fun happy set, with telephones, houses, blossoms, so cute!
10) Super Hero 2 page layouts and stickers
11) Julie Nutting Mermaids – stamps and dies and papers
12) Dad papers and stickers to get ready for Father's day
13) Bo Bunny Sunshine Bliss – old time keys, bottles, frames
14) Little Wonders baby girl and baby boy papers, animals with a camping theme, so cute
15) Prima Havana collection – this is my favorite! So pretty with foil accents and love the colors
16) Fourth of July collections – Hometown USA by Simple Stories is my favorite!
17) Love Santoro Gorgeous girls? New packages of stickers!!!!
18) Crave more even Gorgeous girls? New Medium size stamps and Paper Piecing Die sets
19) New 3D Push outs in vintage typewriter, camera, etc.  – so pretty – just stack with pop tape
20) New Farm Dies – Animals, tractor, barn and 3D Push outs to match !
Here is a small sample of our "staple" products.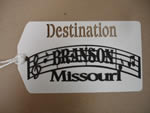 Branson Items
We have all you need to scrapbook your Branson trip with a huge selection on Branson custom items.  Custom papers and die cuts of all the Branson attractions, & stickers.  We are proud of our Branson wall!