What's New at Scrapbooks Forever!
We have the largest scrapbooking selection in the area. We always keep up with the latest trends in scrapbooking and are always ready to demo any new tools or techniques. Come check us out! Even though we don't have online ordering, you can order any of our products by sending us an email or calling 417.335.7904.
NEW PRODUCTS
New Products in the store now:
1) Heartfelt Creations Happy Camper Stamps, dies and paper pad
2) Authentique Liberty 4th of July paper collection
3) Graphic 45 Tropical Paradise collection
4) Waffle Flower Water Media Mat- waterproof surface and color wells built into the mat
5) New summer 3D punchouts – beautiful florals
6) Blooming Summer dies and stamps to match the 3D punchouts
7) Color layering glass jar with flowers
8) New Desktop organizers – only 12.00 each/ 4 styles – fun project- comes with decorations
9) Photoplay All Hallows Eve collection
10) Photoplay Christmas Memories collection
11) Prima Apricot Honey collection
12) Prima Christmas Country collection
13) Prima Autumn Sunset collection
14) Nuvo Stone Drops
15) Kaisercraft Magenta collection
16) Kaisercraft Enchanted collection
17) New Ocean View papers and dies
18) Gina K Wreath Builder sets, templates and masking sheets
19) We R Memory Keepers Marker Airbrush
20) Tim Holtz Halloween and Christmas releases
21) Sizzix new release for 3rd Quarter
22) New Sue Wilson Christmas dies – NEW 2019 ANGEL – really pretty!
New from last month:
1) New Company: Dress my Craft beautiful new paper pads
2) Dress my Craft corner slot punches for easy card layer or photo mats – love this!
3) New Paper Cut Edger dies, sunflower, clematis, roses – so elegant
4) Clickable alphabet and numbers stamp sets are back in stock! Spell whatever you want!
5) Lawn Fawn summer release is here – we have it all!
6) New Flocked paper – die cut it, transfer it, create 3D fuzzy stickers with foam adhesive sheets
7) Picket Fence blending brushes- takes blending to a whole new level
8) Memory Box Summer release – new florals and birds
9) Poppy woodland dies – real cute!
10) Layered Combo dies – 3 layers for spectacular backgrounds – lattice, honeycomb and droplets
11) Heartfelt Purr-fect Posies and coordinating kitty cat stamps and dies
12) Alexandria Renke kitchen papers – very nice BBQ, mushrooms, tomatoes, utensils
13) More 4th of July arriving every day
14) Jungle theme dies and 3D punchouts
New from May:
1) Heartfelt Sugarspun – I love the little ice cream cart! Lots of possibilities!
2) Sizzix Mini Album die – see our project of the month for cute ideas!
3) Moxy Glitter sets
4) New Wishing Bubbles – fun embellishment, looks like bubbles or rocks or candy, etc.
5) New 4th of July is here now and more on the way
6) New Heidi Swapp Wolf Pack paper and stickers- great for men's cards and camping pages
7) Vintage Botanical by Simple stories – I am in love with these bright delicate florals
8) Vintage Traveler – I want to go on a trip just so I can scrapbook with this line!
9) Riverbank paper pad and stamps by Craft Consortium-frogs, swans and cranes, oh my!
10) Tim Holtz Glass Media mats are back in stock
11) New 3D punchouts for those of us addicted to them
12) Tim Holtz Oxide Sprays – create glorious backgrounds much faster and easier than the pads
13) Stamping Bella Oddballs animals- Rhonda and I love them – now you can too!
14) Art Impression Bible Journaling stamps – beautiful watercolor style scenes and messages
15) SPOILER ALERT: Prima Fruit Paradise will arrive May 8th – I ordered it ALL!
NEW FROM APRIL RELEASES:
1) Graphic 45 Kaleidoscope and Bloom
2) Heartfelt Cherry Blossoms
3) Celtic knot dies – several patterns
4) Mini Bloom Storage – opens like a blooming flower to store tiny embellishments
5) Simple Stories Vintage Traveler
6) Cartography collection – beautiful maps
7) New Camping papers
8) Say Cheese 4 Disney collection
9) Authentique Ingredients Kitchen Collection
10) Big Top Circus
11) Lots of Easter of course!
12) Hello Baby in Boy and Girl collections by Echo Park
13) New Farm, Zoo and Pets
14) New Wedding vintage lace collection
15) New EK Success Punches- cute cupcakes, unicorn, tags
16) New Spring 3D punchouts – we never tire of these fun embellishments
17) Lots of new Cottage Cutz Easter Dies- some bunnies and some religious
18) New Tim Holtz and a second wave of new items coming this week
New products from March
1) Ciao Bella paper collections are back in stock! PLUS BRAND NEW ONES!
2) Lots of St. Patrick's papers and cutaparts for cards
3) Bo Bunny Double Dot Vintage LACE  papers! These are fabulous!
4) Heartfelt Creations Tulip Collection
5) Heartfelt Creations Diamond dies
6) Lawn Fawn spring release; Easter, fun boxes, Mushroom house, and more! It's all here!
7) Bo Bunny Bee-utiful collection : Blues and bees and it is Bee-utiful!
8) Graphic 45 Love Notes is here
9) Echo Park Easter Wishes Collection
10) Photoplay Easter Joy religious collection is here
11) Photoplay Bunny Trail Collection: silly rabbits and eggs
12) Photoplay Snuggle up baby boy and girl collections
13) Echo Park Hello Baby boy and girl collections
14) Authentique Swaddle boy and girl collections
15) Nuvo Dream Drops are here, fabulous iridescent colors with a prism effect
16) Spectrum Noir TRI-BLEND markers: Three perfect blending shades in each marker, saves space and time searching for the right markers to blend together
17) Art Impressions new release: includes new watercolor series stamps, cute new aging birthday stamps, Easter set, new flip card dies and stamps
New from previous months:
Tim Holtz Newest release – Geo Spring dies, Big Bunny, new side-orders for Easter and Noted which is new tags, cute little robots, dinosaurs, florals and more
New Sizzix releases with a great emboss and cut window with stone wall, ice cream cone and strawberry fold-it, fairy moon, everyday envelope liners, and more
Number set for the word punch board – I love this – add dates to your photo mats instantly
Creative Expressions Edger dies for spring – I had their Christmas designs and they were so awesome I ordered the new designs with florals, dragonfly and more for spring.
Pink Ink stamps – new company for us. Rabbit, Unicorn, Dragon and Seahorse. Nice artwork!
New Hero Arts Spring release – Lots of butterflies and more
Don't forget Valentine's stuff to scrapbook your celebration of this Love-ly holiday!
Here is a small sample of our "staple" products.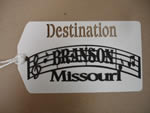 Branson Items
We have all you need to scrapbook your Branson trip with a huge selection on Branson custom items.  Custom papers and die cuts of all the Branson attractions, & stickers.  We are proud of our Branson wall!